Successful gardeners grow two things: plants and soil. Healthy soil is fundamental to growing healthy food, cultivating plants and wildlife, supporting human health, conserving water, and reversing climate change with carbon farming. Healthy soil is particularly vital for people who work with urban soils, where the impacts of development have left behind degraded soils in need of repair and replenishment. [ref. Healthy Soils Guide. Stopwaste.org October 2020]
Climate Victory Gardens
What is a Climate Victory Garden? Here is a short video (<2min) that shares the history of Victory Gardens in WW2 (in 1944 nearly half the produce and fruits in the US were grown in backyard gardens!), plus 5 ways to make your garden a regenerative Climate Victory Garden. Plus a link to add your Climate Victory Garden to a Map of such gardens throughout the US.
The Soil Story video (3:19 min below) includes a description of global warming, carbon cycle, carbon sequestration, carbon farming/gardening. One potential project for a class is to re-edit this video with local representation – Kiss the Ground provides the tools for using the video template, graphics, and music for your editing project (scroll to bottom of page)
Climate Victory Gardening 101
from Green America. https://www.greenamerica.org/climate-victory-gardening-101. Additional history of Victory Gardens. A Climate Victory Garden facebook group sharing experiences. Food as a solution. 10 Carbon Capturing practices.
10 Carbon-Capturing Practices
In the 2 page summary here you'll recognize things you're already doing in your garden. These will help give some ideas for enhancing the carbon capturing features in your garden.
(from Green America) Whether you're an experienced horticulturalist or novice gardener, these simple practices can be integrated into any plot. Here's what you can do to transform your garden into a Climate Victory Garden. While we understand that not all of these practices can be implemented everywhere by everyone, we encourage you to do your best and commit to incorporating as many into your garden as possible. And, over time, we hope that you will be able to adopt them all.
Click on either image below to view our handy 10 Carbon-Capturing Practices Infographic.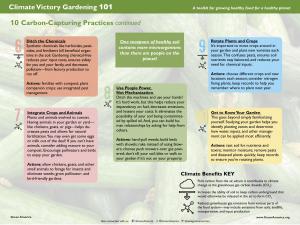 Drawdown – Reversing Global Warming
Project Drawdown is a group of scientists that have analyzed the top 100 solutions toward Reversing Global Warming. This helps put everything in perspective and provides your students a resource to learn more about particular solutions. It helps demonstrate that everything is connected to everything. Climate Solutions have multiple benefits beyond reducing or sequestering greenhouse gas emissions.
Regenerative (Carbon) Farming/gardening is part of the Food, Agriculture and Land Use segment. though specifically one can look here for a better description and the potential for Regenerative Agriculture.
The chart above shows where Greenhouse Gases come from (Sources), and what systems soak it up (Sinks), and what is left in the atmosphere. The chart below shows the potential of Climate Solutions. For higher (readable) resolution versions of these charts visit. Drawdown https://www.drawdown.org/drawdown-framework
---
Evaluate your Soil
Stopwaste.org has created a great Healthy Soils Guide that includes several ways to evaluate the health of your soil. This is a great guide for use in the school garden or evaluating soils at home. These qualitative assessments include the Slake Test, worm counting, Nitty Gritty, and more… All doable at school or at home.
Local farmers
Singing Frogs Farm (Sebastopol, CA) http://www.singingfrogsfarm.com/
no till, regenerative, organic farm. has restored soil significantly. great results. There are several short videos highlighting their farming practices and articles that can be reading assignments for some classes. We can also arrange a video chat with the Farmers including 10 year old daughter.
Local organization CAFF (Community Alliance with Family Farmers)
Visit your local Farmers Market and ask farmers about their carbon farming practices.
Films to learn more and generate discussion
The Biggest Little Farm – an amazing story of transforming a farm with dead soil and creating a thriving ecosystem. Located in Ventura County. Southern California.
Kiss the Ground – It's on Netflix. or You can access the film with this link and the password: kisstheground2020 An educational version (45 minutes) is due out shortly (early December and available free to educators in DVD format. Will also be available on Film Platform a streaming service with documentaries that some school districts subscribe to.
Your suggestions? email them to carbon@rahus.org
Civic Engagement
Learning about composting in your area. Advocate for local commercial composting. (currently in Sonoma County we ship our organics out of the county!).
Develop a community garden. a community composting site. a school/community partnership.
Educate the community through story telling about gardeners and farmers that are integrating carbon gardening practices.
Organize a Produce Exchange with neighbors.
---
contact Tor Allen with any questions. carbon@rahus.org